Investing in massage is an investment in your health.
Benefit from a warm towel therapy on your back with all massages.
Massages
Massage with Healing Touch (Energy Work)
60 min $120. 90 min. $170.
Healing Touch - This allows your energy to open and flow freely. It is used routinely with clients to promote balance of the body and energy field, relaxation, reduce pain, reduce anxiety, prevention and general well-being. 30 min. $50. 60 min. $100.
Warm Stone Massage improves mood and relief from symptoms of arthritis, anxiety, muscle tension or muscle-related injury.
60 min. $130. 90 min. $180.
Swedish is a light to medium pressure massage. Relieves muscle tension, stimulates circulation, improves muscle tone and promotes total mind and body relaxation.
60 min. $100. 90 min. $150.
Swedish Massage with Warm Stone Back Massage
60 min $110. 90 min. $160.
Deep Tissue Warm Stone Massage helps relax tense muscles in your body preparing the tissue for deeper work.
60 min. $140. 90 min. $190.
Pregnancy can be a time of physical and emotional discomfort. Weight gain causes postural changes which compress the lumbar spine. This massage can help relieve these discomforts.
60 min. $100. 90 min. $150.
Customized Massage is a firm to deep therapeutic massage with a combination of different modalities which can include Deep Tissue, Sports, Myofacial, Trigger Point and/or Acupressure. This Therapy alleviates pain, muscle spasms, stress, inflammation, tissue damage, and soft tissue problems that produce discomfort or pain. An anti-inflammatory cream is applied if needed.
60 min. $100. 90 min. $150.
Reflexology improves the energy flow in your feet, ankles and lower legs. This is an alternative medicine method involving the practice of massaging or applying pressure to parts of the feet with the goal of encouraging beneficial effects on other parts of the body, or to improve general health. Begin with a warm foot soak followed by a foot and leg massage with warm stones. Feet 60 min. $100.
Hand & Foot Reflexology (indulge with a foot soak & warm hand mitts). 90 min. $150.
Back Massage & Foot Reflexology Enjoy a foot soak, warm stones on feet & warm towel on back. 75 min. $125. (30 min. each with soak).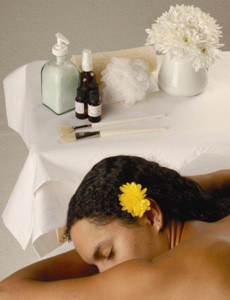 Body Treatments
Relaxing and Effective. (Please allow 60 minutes $100.)
The Body Refine and Body Renewal Treatments begin with a fruity peel body scrub rejuvenating gel. When buffed off, it has an exceptional exfoliating and smoothing effect. Alpha-hydroxy acids remove the top layer of the skin cells and smothes the surface.
Body Redefine Anti-Cellulite Body Treatment - For target areas After the peel enjoy a Rapid Release Massage with a draining massage gel to reduce the appearance of cellulite by increasing circulation and draining tissue. It tones and discourages the formation of adipose tissue. A local intensive action serum is then applied to re-oxygenate. This stimulates the elimination of toxins accumulated in body tissues, thus restoring body tone, lightness and well-being.
Total Body Moisture Renewal - Following the fruity peel, indulge in an application with our luxurious moisturizing body crème to hydrate, soothe and moisturize. It contains Lactic Acid and Licorice Root to encourage cell renewal while minimizing the appearance of wrinkles, sun damage or age spots.
Body Luxe Hydrating Masque Wrap - This treatment begins with a dry exfoliation, followed by an application of a rich soft warming balm which melts upon contact. Enjoy a scalp and foot massage while you are cocooned in a Thermal Mylar Sheet. This reflects body heat to create warmth and helps the masque to work more effectively. After you are unwrapped, indulge with an application with our firming body creme. This luxurious cream supports collagen and elastin to help promote a smoother, firmer look and feel to your skin.
Waxing
Waxing is a method of semi-permanent hair removal which removes the hair from the root. New hairs will not grow back in the previously waxed area anywhere from two to eight weeks (depending on the individual's hair growth). About 15 min. prior to waxing apply a numbing spray or take an Ibuprofen. Please schedule Bikini appointments a week after menstruation; not right before or during.
Chest $60.

French Bikini $45.

Intense Bikini

$60. (French & buttocks)

Buttocks $25.

Back $60.

Underarms $20.

Lip/Chin/Cheeks/Sideburns $15. each

Brows $15.
**Some physicians do not recommend waxing for persons with diabetes, as they are more susceptible to infection.
Skin Care
Our facial and retail products begin with premium botanical ingredients with an unwavering commitment to pure, safe and beneficial products. Our personal care and wellness products preserve and enhance the skin, body, mind and spirit for an Integrative and Holistic approach to beauty. We carry Gluten-Paraben free products that are not tested on animals.
Facials
Red-Out Facial (For Hyper-Sensitive Skin) – This facial utilizes the latest research, designed and formulated to help calm conditions such as rosacea. Micro Silver is an important antibacterial ingredient found in the Red-Out Facial. Combined with the rich blend of vitamins, minerals, trace elements, amino acids and anti-oxidants in seaweed, this treatment creates the ideal environment for healthy skin. Seaweed, like seawater is similar to human plasma. 60 min. $110.
Electro-Lift Facial – This facial utilizes galvanic current (iontophoresis; involves using a low electrical current through the skin), a Cell Renewal Serum (for enhancing cell regeneration) with Galvanic Gel to increase the penetration of the ingredients and to instantly hydrate, firm, lift and deeply cleanse the skin. This is followed by an application of the Repechage Lamina Lift Mask which uses an organic blend of EcoCert Seaweeds, Orange Water, Aloe Vera and natural botanicals to de-stress, de-puff and refresh your skin for a more luminous complexion. Perfect to soothe and hydrate sun-exposed skin. 75 min. $145.
Micro current Facial – This generates a series of simultaneous sequential impulses through two contact nodules which contract and relax the muscles as well as tone and massage the lower layers of the skin. These impulses are designed to provide comfortable and efficient muscular contractions that gently lift and help firm the natural contours of the face. 75 min. $145.
The Works – Peel, Diamond Microdermabrasion, Microcurrent, Galvanic & Lamina Lift Mask. 2 hours $215.
Bee-Alive Royal Jelly Anti-Aging Facial - For the ultimate pampering delight with exceptional age-defying results. An Enzyme peel is applied to deeply exfoliate followed by an all natural Bee-alive Honey mask with natural occurring Alpha-Hydroxy Acids to promote even-toned, smoother looking skin. The royal finish to this facial is the Bee-Alive Pure Royal Jelly Mask. This is the ultimate uplift for the skin and spirit; living you radiant, rejuvenated and hydrated. 90 min. $150.
Repechage Biolight Facial - This professional treatment helps brighten and diminish the appearance of hyper-pigmentation due to sun, acne scars and hormonal changes while enriching the skin with its added anti-aging benefits. This facial also includes a Glycolic peel and a brightening Anti-Aging Hand Treatment. 75 min. $135.
Repechage Vita Cura Five Phase Firming Facial - The VC5 treatment is a true alternative to surgical rejuvenation. Our exclusive combination of natural marine, herbal ingredients and papaya enzymatic micro peel provide advanced skin repair to invigorate, lift and frm the skin. Includes a hand peel. 75 min. $135.
Gene Therapy InstaLift Facial Treatment - Within moments, this treatment instantly lifts, firms and tightens the skin. Leuphasyl reduces wrinkle expression caused by contraction of facial muscles while Gene Expression and the latest most clinically advanced peptides leave the skin with increased firmness, elasticity and resistance to harmful external factors. 60 min. $110.
Diamond Microdermabrasion - A popular alternative to the traditional microdermabrasion machine in that it relies on Microdermabrasion tips covered in tinydiamonds to perform skin exfoliation. It has the added benefit of stimulating the production of collagen, increasing blood flow to the skin and removing dirt from the pores. This treatment is able to offer fast improvements for skin concerns such as fine lines, wrinkles stretch marks, acne scars and uneven skin tone and Hyper-pigmentation. Appropriate for all skin shades. Face, neck & Décolleté 60 min. $110. Back 60 min. $110. Hands $35. Add Peel $35.
Repechage Hydra Dew Moisture Facial - will re-establish the hydra-lipidic protective film, boost moisture content and will help combat hyper-pigmentation and wrinkles. This free radical scavenging treatment is high in Beta Carotene, B1, B2, B3, B6, Calcium, Magnesium & iron. The Argireline Hexapeptide, which is in the mask, smoothes out the complexion, providing an alternative to Botox. 60 min. $110.
Repechage Seaweed Treatment Facial -The Seaweed Mask is the ticket to clean and healthy skin. Enjoy an acupressure massage with a C-Serum followed by a cooling and soothing fresh seaweed mask brushed over gauze. Skin is clean, refreshed, healthy and vibrant. 60 min. $110.
Men's Essential Retreat Facial – Face, neck & décolleté is cleansed and exfoliated with steam; extractions and a facial, arm and hand massage is performed while masking, followed by a moisturizer. 60 min. $110.
Add ons:
AHA Peel - $35.
Lamina Lift Mask - uses an organic blend of EcoCert Seaweeds, Orange Water, Aloe Vera and natural botanicals to de-stress, de-puff and refresh your skin for a more luminous complexion. This mask also provides instant soothing, cooling and moisturizing effects. Great for after a Peel or Microdermabrasion. $30.
Repêchage Opt-Firm Eye Contour Treatment – This treatment helps decrease the appearance of furrows & wrinkles & provides an extra cooling & lifting effect due to Codium Tomentosum, the same seaweed found in the Hydra Dew Lift Moisture Facial. $50
Anti-Aging Eye Treatment - This treatment not only hydrates and nourishes the skin but it also deeply moisturizes and protects the delicate eye area. It reduces the appearance of fine lines/wrinkles and fortifies the skin to help prevent future damage. $30.
Notes about your visit
Please arrive 10 minutes prior to your first treatment to allow time to complete a short questionnaire, get settled and allow the service provider to begin your session on time. We recommend that you remove makeup and leave jewelry at home. Please turn off or silence your cell phone. A 24 hour cancellation notice is greatly appreciated. It is preferable to schedule your appointment in advance.
Payment for Spa Services are payable by Cash, Check, Visa, Mastercard & Discover.
CT State Law requires 6.35% sales tax to be added to Facials, Waxing and Body Treatments. Prices do not include gratuity - 20% of the original price is standard protocol.
Refer a new client to us & receive 20% off your next service! *New client must receive and pay for their service before discount is applied.
Pay securely for your services with PayPal: